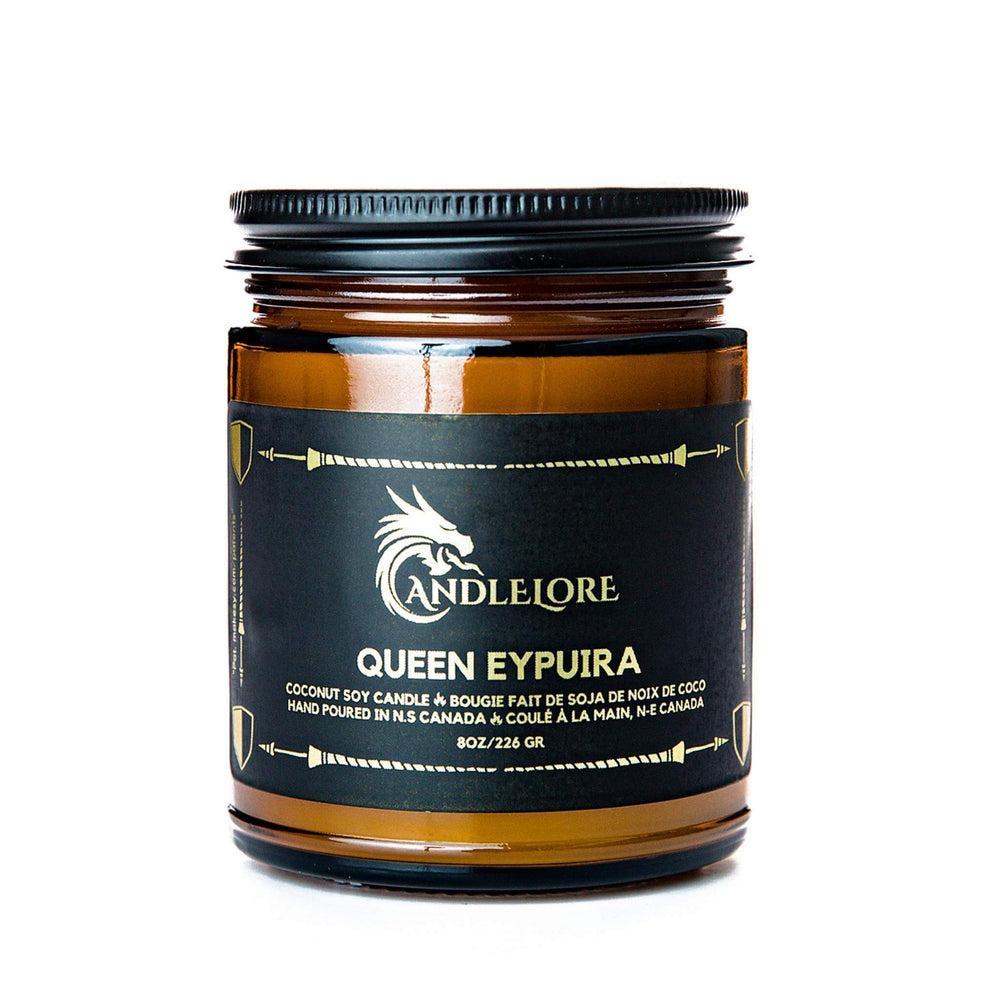 Eypuira - Queen Candles
from

$13.00
Scent: Pear, Poppies, Vanilla, Patchouli As you step into the room, a woman of extraordinary beauty is seated upon an ornate throne. Her guards and servants bow reverently from a respectful distance, allowing her ample space, while never daring to meet her gaze. Dark, captivating eyes fixate on you, unencumbered and perhaps even amused by your direct eye contact. Her slight smile and commanding aura beckon you forward, emanating an air of confidence and control. As you draw nearer, a captivating scent ensnares your senses, refusing to release its grip. The fragrance is a complex symphony, a layered tapestry of sweet pears blending harmoniously with exotic pepper. Swirling notes of poppies, primrose, lilies, and jasmine dance, gradually giving way to a velvety blend of smooth vanilla, cashmere woods, deep patchouli, and fresh cedar. This is Queen Eypuira, and this queen candle captures her essence perfectly.
Zeus Candle
from

$13.00
Scent: Ozone, Teakwood, Earth, Musk As you light the Zeus candle, the flickering flame illuminates the room with a warm and inviting glow. The scent transports you to the peak of Mount Olympus, where the great god himself resides. Inspired by the ruler of the gods, the fragrance embodies Zeus's powerful and legendary presence. With top notes of citrus and ozone, the scent evokes the power and strength of the king of the gods. As the middle notes of jasmine and lily waft through the air, you can imagine yourself standing in the lush gardens of Mount Olympus, where the gods themselves reside. The base notes of mahogany woods, teakwood, earth, musk, and moss add a depth and complexity worthy of the god of thunder and lightning. With each inhale, you're transported to ancient Greece, immersed in Zeus's mythology and might. As the candle burns and the scent fills every corner, you can almost feel the thunderbolts striking and the earth trembling under Zeus's rule. Let the Zeus candle bring a touch of epic and legendary history into your home.  
Unveiling Our Lily Candle Collection
Experience the Enchanting Elegance of Lily Scented Candles
Immerse yourself in the sublime tranquility of our lily candles. Each candle is a poetic blend of soothing lily fragrance, elegantly housed in a glass amber jar with an aesthetically pleasing black lid. From the first striking flicker to the last lingering scent, our lily candle collection promises an experience that transcends the ordinary.
Scent Visual: A Symphony of Lily Fragrance
As the crackling wood wick ignites, it releases the intoxicating allure of lily. The scent blooms across your space, creating an atmosphere of serenity and comfort. It's not just a scent; it's a visual journey into a field of blooming lilies caressed by the morning dew.
Quality: Crafted with Care and Precision
Our lilly candles are more than just a pretty face. Each one is meticulously hand-poured using coconut soy wax, renowned for its cleaner burn. We use only high-quality, phthalate-free fragrances, ensuring you enjoy a pure, unadulterated lily scent blend experience.
The Appeal: Aesthetically Pleasing to the Last Detail
With their sleek design and captivating scent, these candles are designed to complement any decor. The amber glass jar exudes a vintage charm while the black lid adds a touch of modern sophistication. Whether lit or unlit, our lily scented candles make a stylish statement.
The Experience: More Than Just a Candle
When you light one of our lilly candles, you're not just illuminating a room; you're igniting an experience. The gentle crackle of the wood wick mimics the comforting sounds of a fireplace, creating an immersive ambience that soothes the senses.
Perfect for Gifting: Spread the Love with Lily Candles
Our lily scented candles make an exquisite gift, whether it's for a birthday, anniversary, or 'just because'. Every candle comes in a beautiful glass amber jar, ready to be gifted and adored.
Ignite Your Senses Today
Why wait? Dive into our lily candle collection and transform your space into a sanctuary of calm and tranquility. Indulge in the luxury of lily candles - because you deserve nothing less than the best.