Red Dragon Candle
from

$13.00
Scent: Woods, Smoke Imagine the ancient red wyrm, a force of nature, feared and revered in equal measure. Its fiery breath, capable of reducing entire forest villages to ashes, was a mesmerizing spectacle of destruction and beauty. Our Red Dragon Candle captures this paradox perfectly. Breathe in the deep notes of fir, pine and balsam, mingling with the heady scent of smoke. Each whiff is a sensory journey that takes you back to the era of the great wyrm. The lingering scent of burning wood serves as a poignant reminder of the awe-inspiring creature that once roamed free. 
Green Dragon Candle
from

$13.00
Scent: Mint, Eucalyptus, Woods, Musk Imagine yourself in the midst of an emerald jungle, teeming with mint and jasmine. Layered further with cornmint, spearmint, wintergreen and eucalyptus, the sweet, intoxicating scent contrasts starkly with the formidable presence of the dragon, making the journey all the more thrilling. Venture deeper, and you'll encounter the comforting warmth of lemon, and woods, coupled with the alluring whisper of vanilla, and musk. It's a sensory tapestry so vivid, you can almost see the dragon's scales glistening in the sunlight, its fearsome gaze holding untold stories. 
White Dragon Candle
from

$13.00
Scent: Eucalyptus, Oakmoss, Lavender, Vanilla Imagine being high up in the mountains, amidst the eternal snow and relentless winds where the ancient white dragon resides. The scent of snow-capped pines mingles with the chilly aroma of eucalyptus, evoking the dragon's icy domain. As you venture deeper into the dragon's abode, you'll encounter the crisp notes of rhubarb and bergamot, making way to the rich scent of oak-moss, jasmine and a touch of white lavender, as captivating as the dragon's shimmering scales in the moonlight. With each breath, succumb to the intoxicating blend of vanilla, benzoin resin, sandalwood, caramel, vetiver and amber, adding a layer of complexity that mirrors the dragon's timeless wisdom. 
Unleash the Fantasy Dragon Within
Are you a dragon enthusiast, forever seeking unique ways to celebrate your love for these mythical creatures? Do you yearn for a deeper connection to the lore and fantasy of dragons? If so, you've landed in the right place. Welcome to Candlelore, where we fuel your dragon fantasies with our one-of-a-kind Dragon Candle Collection.
The Dragon Candle Collection: A Dream Come True for Dragon Fans
At Candlelore, we understand the passion that fuels the hearts of dragon buffs like yourself. We share your love for dragons and their enchanting lore, which is why we've created a collection of dragon inspired candles that bring the mystical world of dragons to life in your very own home.
Our Fantasy Dragon Candle Collection is designed to ignite your senses and transport you to a realm where dragons reign supreme. These candles are inspired by the mesmerising creatures that dominate the skies of magical and long forgotten lands. These ancient wyrms exist in various colours signifying their habitat, demeanour, and of course breath weapon. 
Our imaginatively designed selection of Dragon Candles will truly transport you to the enchanting lands of Mythology. We understand the yearning to connect with these mythical realms and the fear of missing out on an immersive experience that brings you closer to your beloved worlds. That's why we've curated our Dragon Inspired Scented Candles with avid Dragon Lovers like yourself in mind. This collection is tailored to meet your every desire, ensuring you find precisely what you've been seeking. Prepare to embark on an epic adventure as you ignite these exquisite candles and let their captivating scents whisk you away on a legendary journey. Don't deny yourself this mesmerizing sensory experience.
Why Choose Candlelore's Dragon Candles?
Unique Immersive Experience For Dragon Buffs:
We believe that the magic of dragons extends beyond visuals. Our dragon candles offer an immersive experience through captivating scents, bringing you closer to the dragons you adore.
High-Quality Products:
Each Candlelore dragon candle is hand-poured using the finest ingredients, ensuring a long-lasting, clean burn.
Timely Delivery:
With Candlelore, you won't have to wait long to start your dragon-scented adventure. We are committed to delivering your dragon candles promptly, allowing you to dive into your dragon fantasies without delay.
Reputable Company:
As a trusted name in the fantasy based candle industry, Candlelore is dedicated to providing exceptional customer service and top-quality products. Your satisfaction is our priority.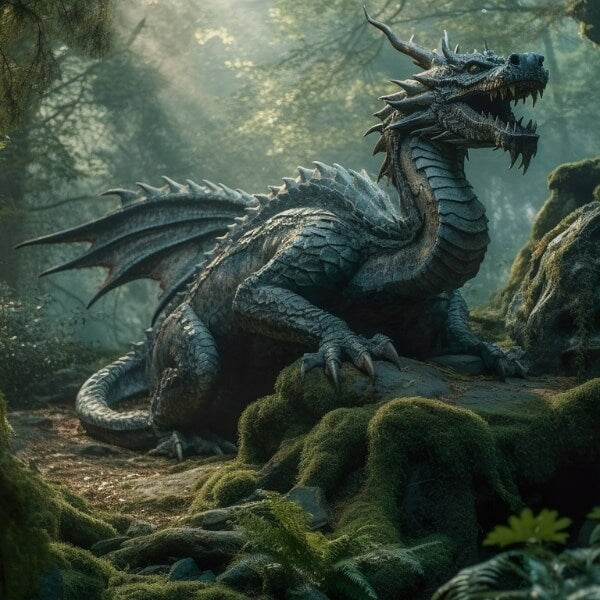 Dragon Gifts: Ignite the Imagination
This fragranced collection of dragon gifts is a treasure trove for those who dare to dream, who find beauty in the extraordinary, and who believe in the enchanting tales spun around fire-breathing creatures soaring through the skies of ancient legends.
These scented candles are not just mere objects; they are an invitation to a realm of mystical wonder, a celebration of the fantastical. Each candle captures the essence of these magnificent beasts with meticulous attention to detail, manifesting their grandeur in each specific scent blend.
The recipient can look forward to it casting captivating shadows, painting their rooms with whispers of magical tales — each piece is a gem waiting to be discovered. These gifts are not only stunning decorative pieces, but they also spark conversations, kindling a shared passion among fellow enthusiasts.
The Perfect Gift for Dragon Lovers: Share the Love
Our Dragon Candle Collection also make perfect gifts for dragon lovers. Dragon gifts for him & her can be difficult to find but we've made things easy with this collection. If you know someone who shares your love for dragons, why not introduce them to the wonderful world of dragon candles? It's a unique and thoughtful gift that any dragon fan would appreciate.
Unique Dragon Gifts: More than Just a Present
These unique dragon gift ideas go beyond mere objects. They are a way to connect, to share a passion, and to kindle the fires of imagination. Whether you're shopping for a birthday, an anniversary, or just because, our dragon gifts provide a unique and meaningful way to express your affection.
Experience the Magic Today
Regardless if it's for yourself, or as a gift - these dragon themed candles will transport you to a world of fantasy and wonder. Browse our collection today and discover the perfect fantasy addition that will spark joy, inspire imagination, and create lasting memories. Because here, dragons aren't merely mythical creatures - they're symbols of magic, power, and adventure. And with our unique dragon candles, you can get a piece of that magic for yourself or as a gift to share with someone special.
Join the Candlelore Dragon Adventure
Are you ready to take your love for dragons to the next level? Are you prepared to experience the magic of dragons in a whole new way?
Browse our Dragon Candle Collection today and discover the enticing world of dragon scents. Let Candlelore's dragon candles transport you to a realm of fantasy and adventure, where dragons rule and your imagination can soar.
Remember, at Candlelore, every flame is a tribute to the majestic world of dragons. The question isn't if you want one of these Ancient Wyrm candles, it's what colour do you start with?
So, light up a dragon candle, bask in its enchanting glow, and unleash the dragon within!
For Yourself Or As A Gift
Dragon Candle FAQ: